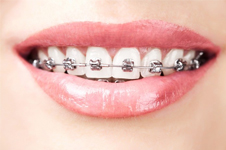 Traditional braces require rubber bands to hold the wire to the brackets. Self-ligating braces instead use little metal doors to hold the wires instead of elastic ties. This speeds up the first stage of orthodontics (alignment) because initially there is a lesser friction between the wires and the metal doors while teeth are rotating and straightening out. The treatment time is faster. They cause less pressure on teeth meaning less discomfort for the patient.
The metal doors are also smaller than the rubber bands so they are also easier to clean. With no rubber bands, they also look neater.
Self-ligating clear brackets appear really beautiful aesthetically due to the combined advantage of clear brackets and no rubber bands.