Introduction
A lot of people believe that Orthodontic treatment is only for improving the aesthetics and to get the perfect smile. While that is one of the main visible results of the treatment, the real goal of orthodontic treatment is not only to obtain a beautiful smile but a good bite as well, meaning straight teeth that are in perfect harmony with each other and look great. A good bite makes it easier for patients to bite, chew and speak and maintain good hygiene. It also does wonders to the life of the teeth and reduces dental visits later. A beautiful smile helps self-confidence, makes smile beautiful and attracts people's attention to teeth. Crooked teeth on the other hand are harder to keep clean, mask facial features and are at risk of being lost early due to tooth decay and periodontal disease. They could also cause extra stress on the chewing muscles that can lead to headaches, Jaw stress and more. We have shown below a photograph that shows the difference that orthodontic treatment can make on a person's face.
Do I need orthodontic treatment?
Are you one of those whose upper front teeth stick out and look unsightly? Or maybe you have a misplaced midline, teeth crowding or have extra spacing between them? If the answer to any of the above is yes, then you need orthodontic treatment. The way the upper and lower jaws meet can cause teeth to look ugly and lead to an incorrect bite. These problems can be because of genetic inheritance or due to childhood habits such as thumb or lip sucking, tongue thrusting. A need for corrective treatment could also be caused due to premature loss of milk teeth on account of cavities or an accident.
The boon of modern dentistry allows us to now straighten teeth in all cases and correct the alignment of the jaws thus enhancing overall appearance.
Before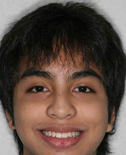 After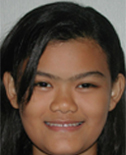 Before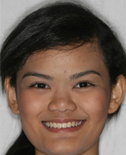 After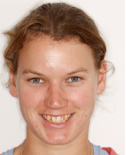 Before
After